Excellent customer service often distinguishes a successful business from one that barely stays afloat. Either you're on top of your service inquiries, or they accumulate and run you over like a steamroller. We recently had a chance to test two major customer support solutions, so our experience is as personal as it gets. See, we've been using Helpshift for in-app support with some of our products (and were perfectly happy with it), but someone told us Zendesk was the real deal. We tried it, and… you'll soon find out.
Helpshift and Zendesk – a short overview
Helpshift and Zendesk are multifunctional customer service platforms. They provide your staff with all the necessary tools to reply to inquiries, track tickets, resolve claims, and keep your customers happy across different communication channels. You can compile analytics and run customizable reports, integrate these solutions with your existing CRM and billing systems, as well as accelerate and automate most interactions.
Although they're not identical, let's look at some of the features these two platforms share.
Want to know more about tech trends?
Sign up to be the first who receive our expert articles
What is similar between Helpshift and Zendesk?
From a user's perspective, the two digital help desk systems offer the same core functionality:
A highly customizable dashboard that gathers all customer interactions in one place
Customer journey analysis and ticket management with omnichannel support
Web-based and native apps for a seamless customer experience
AI-powered algorithms for data collection and processing
Agent productivity improvement tools
Built-in analytics tools
The similarities do not end there, but since we already had some experience with integrating Helpshift, we were curious about the perks Zendesk could deliver. So we put everything on the line and started the migration process. Let us tell you what we discovered along the way.
How is Zendesk Support different from Helpshift?
Maybe our teams developed certain habits when working with Helpshift, but we did find quite a few inconveniences when trying to switch to Zendesk Support. Once again — this review is far from unbiased, so don't be surprised if we get nit-picky with our complaints.

The Quick Reply option
One of the features our support staff use daily in Helpshift, Quick Replies, appeared as a drop-down list with empty fields in Zendesk. To populate those fields, we had to dig deep into the menus and conduct a full-blown search and rescue operation. Honestly, this shouldn't be such a quest.
Incomplete user metadata
As you can see in the screenshot below, many metadata fields are empty in the Zendesk Mobile App User tab.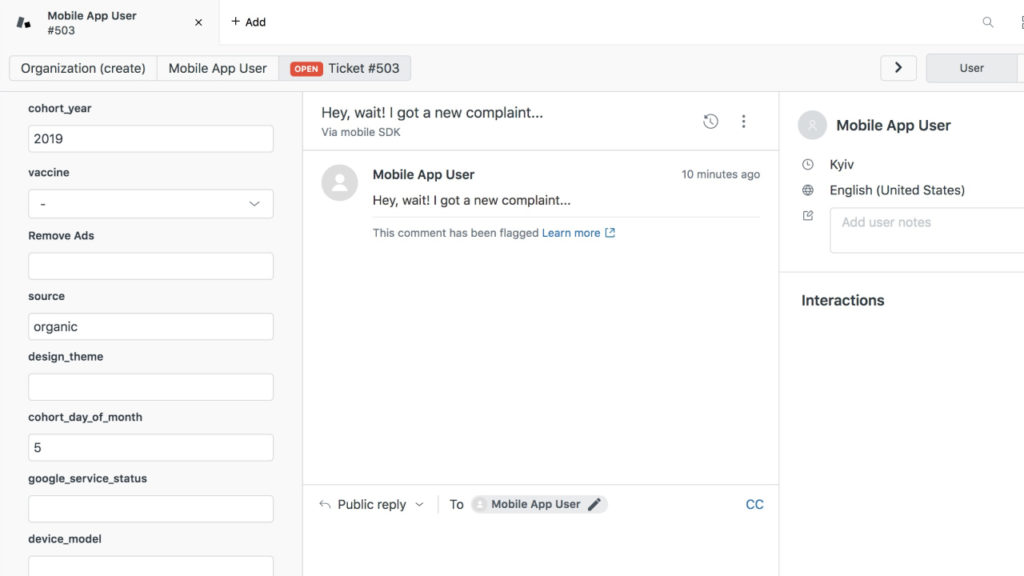 Knowing things like the customer's device model, OS and app version, location, and language would be really helpful. By the way, "Kyiv" and "English" show up regardless of the actual user data. Helpshift has no problem displaying the correct information.
Push notifications — the Bermuda Triangle
We've noticed a few quirks with push notifications in Zendesk. Sometimes, they just vanish into thin air, so the customer has no idea that our support team has already responded to their ticket. Reinstalling the app helps occasionally, but we haven't been able to pinpoint what causes this issue yet.
Ticket handling approach
While working with ticket lists in Zendesk, our support teams had to keep an eye on those tabs all the time. If they switched to other tasks, they'd risk missing replies or forgetting to respond. It seems that Zendesk expects support staff to handle tickets immediately, which isn't our team's preferred workflow. Let us explain.
In Zendesk, a ticket can have one of three statuses: Open, Pending, or Solved. Let's say your support officer responded to a customer's question and left the ticket in the Open state. Guess what happens when the customer replies to this conversation again? Nothing. The only way to see the update is to manually check the ticket.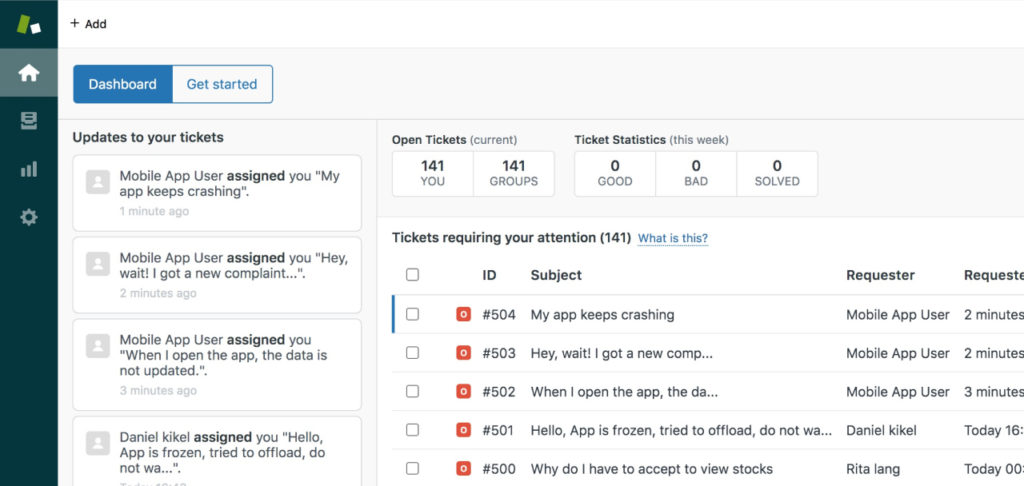 To be fair, Zendesk will notify your support team with a badge — but only if they keep the active ticket tab open constantly.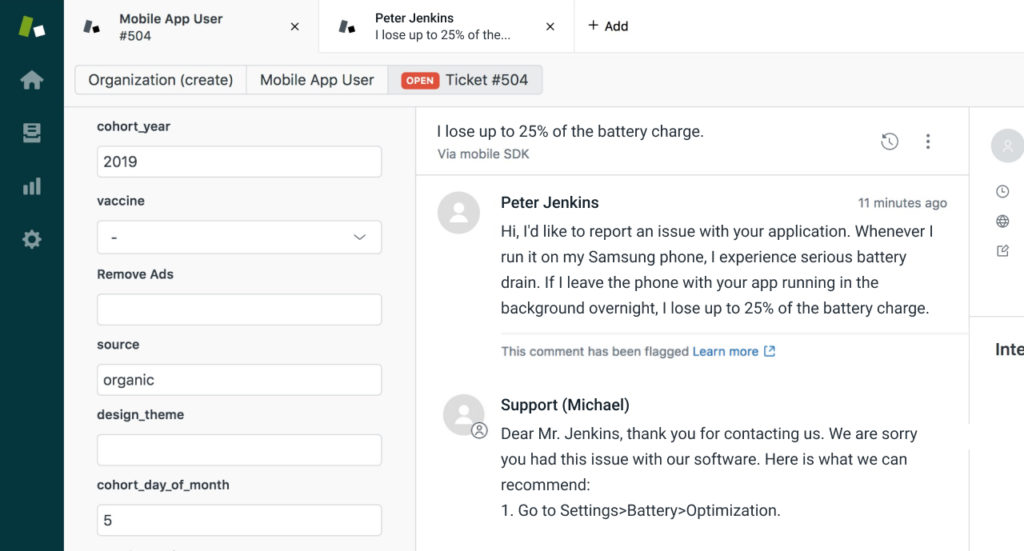 Our teams are used to a different routine. Going over their tickets 100 times a day doesn't work for them, and Helpshift offers more flexibility in that regard.
The fact that Zendesk can't sort tickets by their "last updated" status is another inconvenience. Instead of finding the most recent interactions at the top (a breeze for Helpshift), our support team has to search the entire list.
The small details that matter
In many ways, Helpshift seems to be built with a slightly more client-centric approach. For instance, after a ticket is resolved, the customer can easily confirm they're satisfied with how things were handled.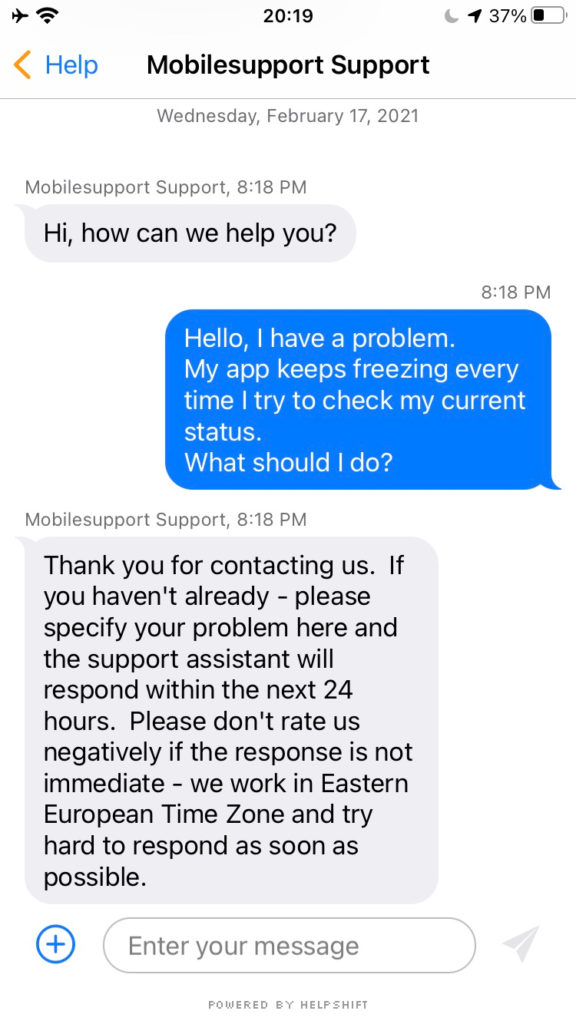 If taking a screenshot is necessary, Helpshift will gently guide the customer through the process. A nice touch, isn't it?
These are some of the more notable differences we came across when moving from Helpshift to Zendesk. But what about program integration? Our devs have some comments.
Integration details comparison
Both platforms offer excellent tools for integration, with Zendesk breaking up its SDK into submodules. What's the catch, you ask? Depending on the functionality you need, leave out the pieces you won't be using — and you have a smaller footprint as a result. But the differences don't end there.
Documentation
We found Zendesk's documentation to be a bit more complicated than its counterpart. Helpshift makes it easier to get started and have your project up and running within a shorter time frame.
Features
There's no clear winner here because both services offer very similar functionality. However, to match the features of Helpshift, you'll need to unleash all of Zendesk's dependencies: ZendeskAnswerBotSDK, ZendeskChatSDK, ZendeskSupportSDK, and ZendeskConnectSDK.
Metadata & tags
When handling tags and metadata, Helpshift is more elegant and straightforward. Everything just works — no need to look for workarounds or use administrator privileges.
Book a strategy session
_
Get actionable insights for your product
Thank you for reaching out,
User!
Make sure to check for details.
Tracking
We prefer Breadcrumbs for tracking in Helpshift over the Connect module and its trackEvent method in Zendesk.
Push notifications
With Helpshift, notifications work by default. If you go with Zendesk, prepare to factor in the cost of using Urban Airship or running a dedicated Webhook API server.
Pricing
While both platforms offer flexible plans, Zendesk's business model can take you by surprise. The trial features will cease working without any notice from the API, so you need to choose your plan carefully and not exceed its limits.
Stability
Even though we had no critical issues, a few hiccups did occur with Zendesk: HTTP errors on both server and client side, as well as intermittent problems with push notifications. Sometimes, when registering device identifiers, the callback feature would not initialize.
To sum up
Frankly, our experience with both help desk solutions has been very positive. However, as long-time users of Helpshift, we found the learning curve to be a bit steep and the changes to our workflow too taxing to completely switch to Zendesk. It's another great customer service platform, and it might be a perfect fit for your business, but for our projects, we'll stay with Helpshift for now.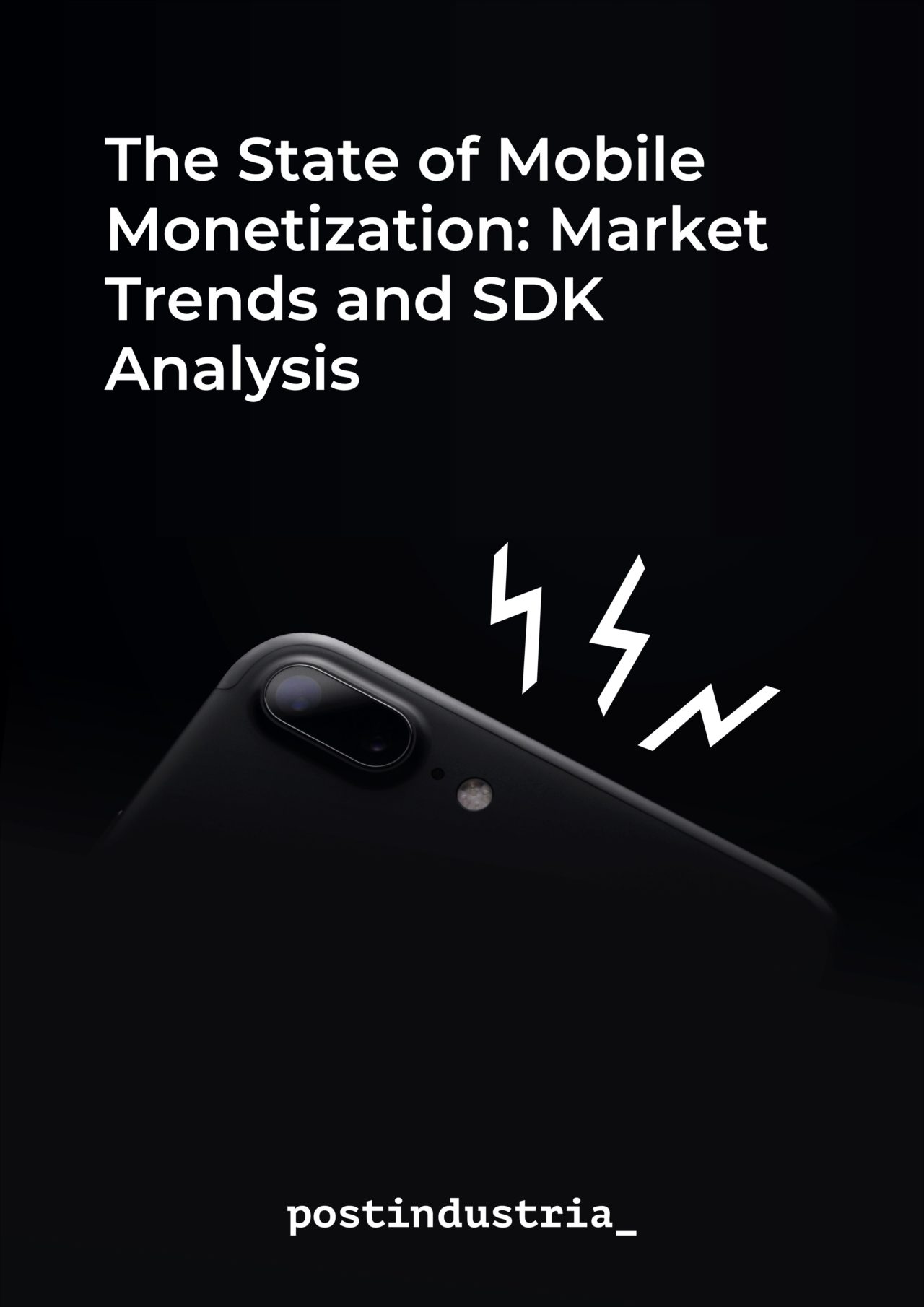 Market Trends and SDK Analysis