The COVID-19 pandemic accelerated the integration of disruptive technologies into various domains, including healthcare. Investment in artificial intelligence (AI) in healthcare has grown and will be one of the major Medtech trends in 2022 and beyond.
AI in Medtech is not the only trend that will dominate the industry's development in the coming years. The others include growing demand for telehealth services, more solutions with medical robotics, and wider adoption of virtual reality (VR) technology and better performance of machine learning (ML) algorithms in healthcare.
Want to know more about tech trends?
Sign up to be the first who receive our expert articles
Investment in AI in Medtech soars
Investments in AI solutions for healthcare have soared since 2015, as venture capitalists took an interest in the technology. A 2021 survey by KPMG shows that the trend is here to stay, at least in the near term. The survey found that healthcare organizations will prioritize their Medtech AI investments over the next two years with a focus on telemedicine (38%), robotic tasks (37%) and patient care delivery (36%).
"AI is definitely a top three thought process for all of our major stakeholders in healthcare. And I couldn't have said that even as little as three years ago," KPMG Healthcare Technology Leader Vince Vickers said.
Market value projections of AI in healthcare suggest these predictions are valid. According to MarketsandMarkets estimates, the global market size for AI in healthcare is projected to grow from $6.9bn in 2021 to $67.4bn by 2027.
AI-driven healthcare solutions can meet the needs of various stakeholders, allowing physicians to be more efficient by speeding up diagnostics, enhancing patient access to care, and improving outcomes.
According to Deloitte, in 2021, about a quarter of Medtech startups developed solutions with machine learning AI capabilities.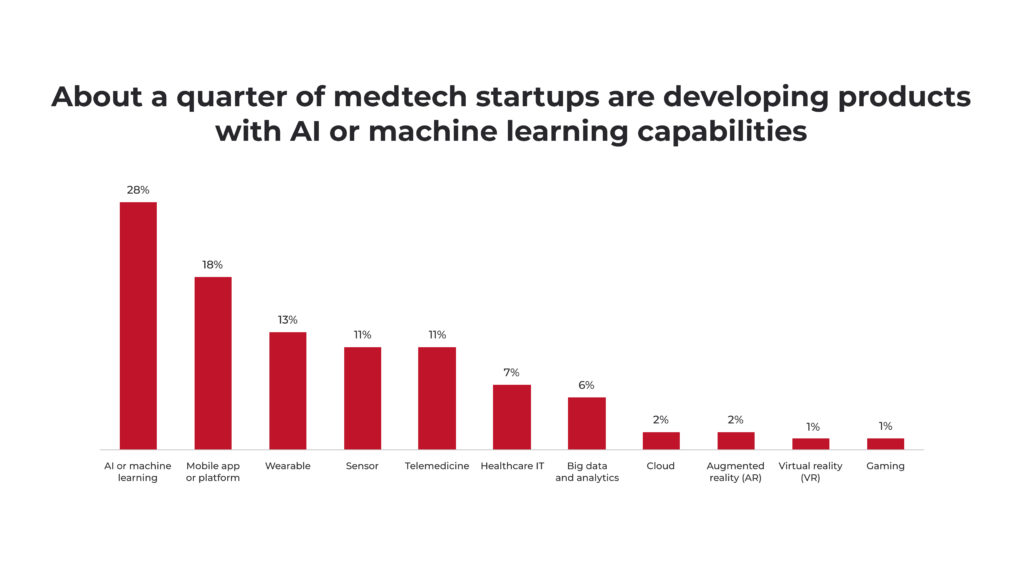 A 2021 survey of business leaders in US healthcare by Statista showed that 40% of respondents found more value in healthcare AI solutions than they expected. An additional 16% said that AI yielded significant value, while only 13% said it brought less value than was promised.
Telemedicine to keep trending
Telemedicine's popularity took off as COVID-19 hit, driven by demand for remote health-related services amid lockdowns. As the world keeps fighting the pandemic and is likely to struggle with its consequences for years to come, the trend for diagnosing and treating patients through telecommunication technology and electronic information will remain in 2022 and beyond.
A 2021 analysis by McKinsey & Company showed that telehealth use had increased to 38 times the pre-COVID-19 baseline. After a 32% spike in office and outpatient visits occurring via telemedicine in April 2020, use leveled off, settling at 13-17% across all specialties.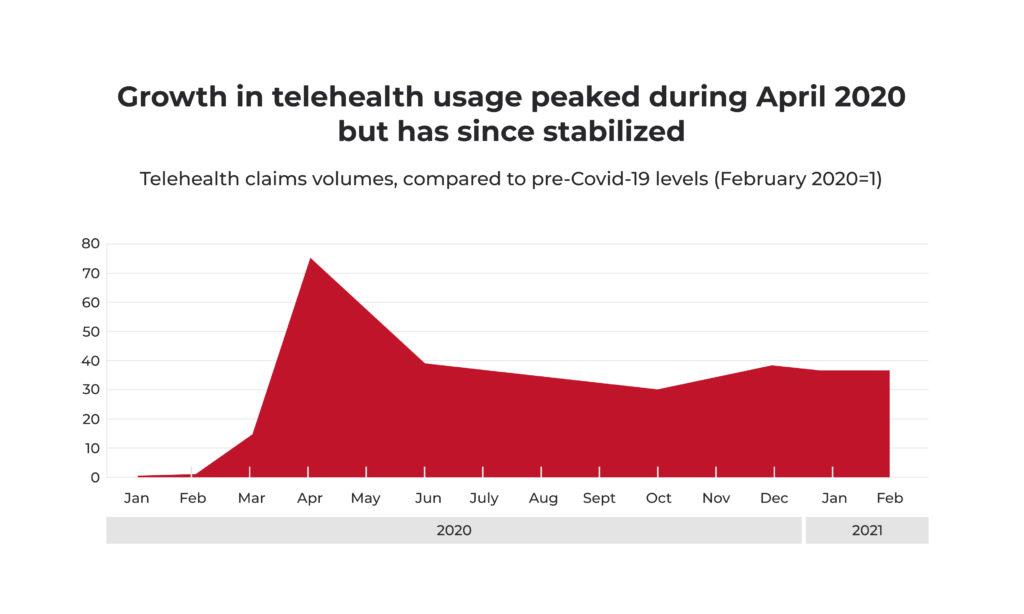 Similarly, investment in virtual care and digital health skyrocketed, with venture capitalists investing in digital health in 2020 at three times the rate of 2017, according to McKinsey.
Telehealth business models are developing, and in 2022 will include a range of services that allow longitudinal virtual care, integration of telemedicine with other virtual health solutions, and improved patient experience, convenience, outcomes, and affordability.
According to Fortune Business Insights, the current value of the telehealth market is estimated at $90.74bn and is expected to reach $636.38bn by 2028. Dr. Joe Kvedar, the head of the American Telemedicine Association and a professor of dermatology at Harvard Medical School, said that physicians who were "curious at best" about telehealth now plan to shift to a hybrid mode of in-person and virtual care.
Medical robotics keep gaining momentum
Further advances in medical robotics is another Medtech trend that will dominate the industry in 2022 and beyond. According to a 2021 Verified Market Research report, the global market value of medical robots will reach $23.92bn by 2028. In 2020, the market was valued at $8.16bn.
Robots in healthcare assist during surgeries, help patients recover during the rehabilitation period, facilitate hospital sterilization and delivery, diagnose conditions, and enhance telemedicine.
In addition to minimizing human contact, which is seen as a major benefit in pandemic times, robots show high precision and help doctors be more efficient in their work. Successful examples of medical robots include the Da Vinci surgical robot that assists in minimally invasive surgeries, the Xenex Germ-Zapping Robot that disinfects hospitals, and the AquaBeam robotic system that is part of robotic therapy to treat lower urinary tract symptoms.
ML algorithms improve at detecting pathologies
Scientists have been using ML algorithms to detect cancers in medical images since the early 1990s. Since then, algorithms have significantly improved their accuracy, proving their potential to rival physicians in precise detection.
A 2018 report by the German Cancer Research Center on the use of ML in analysis of skin images for cancer detection, for example, proved to be more accurate than doctors, showing an accuracy rate of 87% to 95% compared to only 65% to 85% for dermatologists.
Algorithms also showed high efficiency in detection of various types of cancers from radiological images. I believe that in 2022, we'll see more research in this domain that will reveal even higher efficiency of algorithms in healthcare.
Moreover, today's technological advances are already helping algorithms detect pathologies in human health more efficiently. Rapid digitalization of information, larger datasets of medical records that improve the performance of ML models, and cloud computing all contribute to this trend.
The healthcare industry will continue to benefit from machine learning and its ability to deeply analyze patient conditions and treatment combinations that give the highest success rates.
More VR solutions to be integrated into healthcare
According to the 2021 Fortune Business Insights' forecast, VR in the healthcare market is expected to grow from $1.2bn in 2021 to $11.65bn in 2028. Analysts attribute a growing demand for VR solutions to a 38.3% year-over-year growth in market value.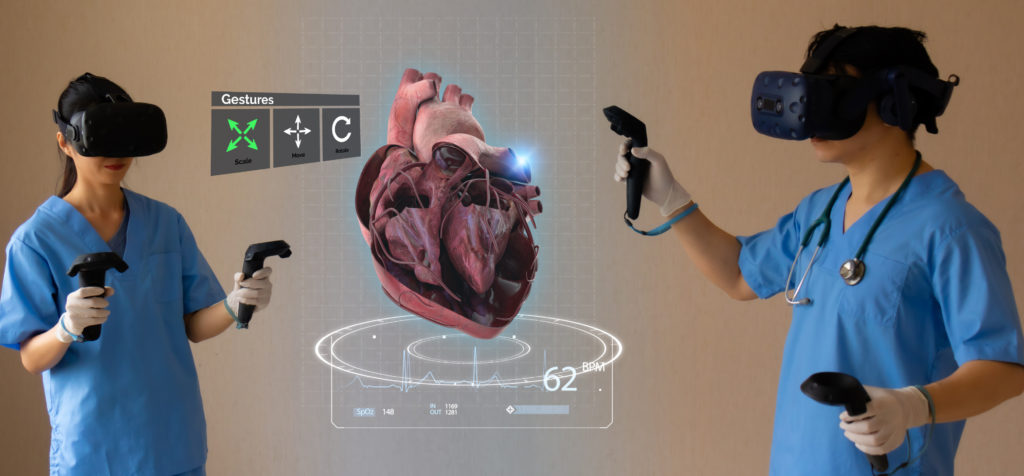 VR technology benefits medical professionals and hospitals alike. It is used for:
Treating patient conditions (including diagnosis and treatment of people with autism, depression, and phobias);
Training medical professionals (integration of 360-degree video in learning programs for clinicians);
What is next?
These Medtech industry trends and stats to watch in 2022 suggest that digital disruption and advances in technology will continue to dominate development of the Medtech industry in the near and distant future. With AI in Medtech gaining momentum, smarter healthcare solutions will emerge to benefit health centers, clinicians, and patients.
If you want to optimize an existing workflow at your center with the help of AI or look into developing your own smart solution, Postindustria is here to help. Our engineers will help you unlock the potential of machine learning to ensure optimal operations and services for patients.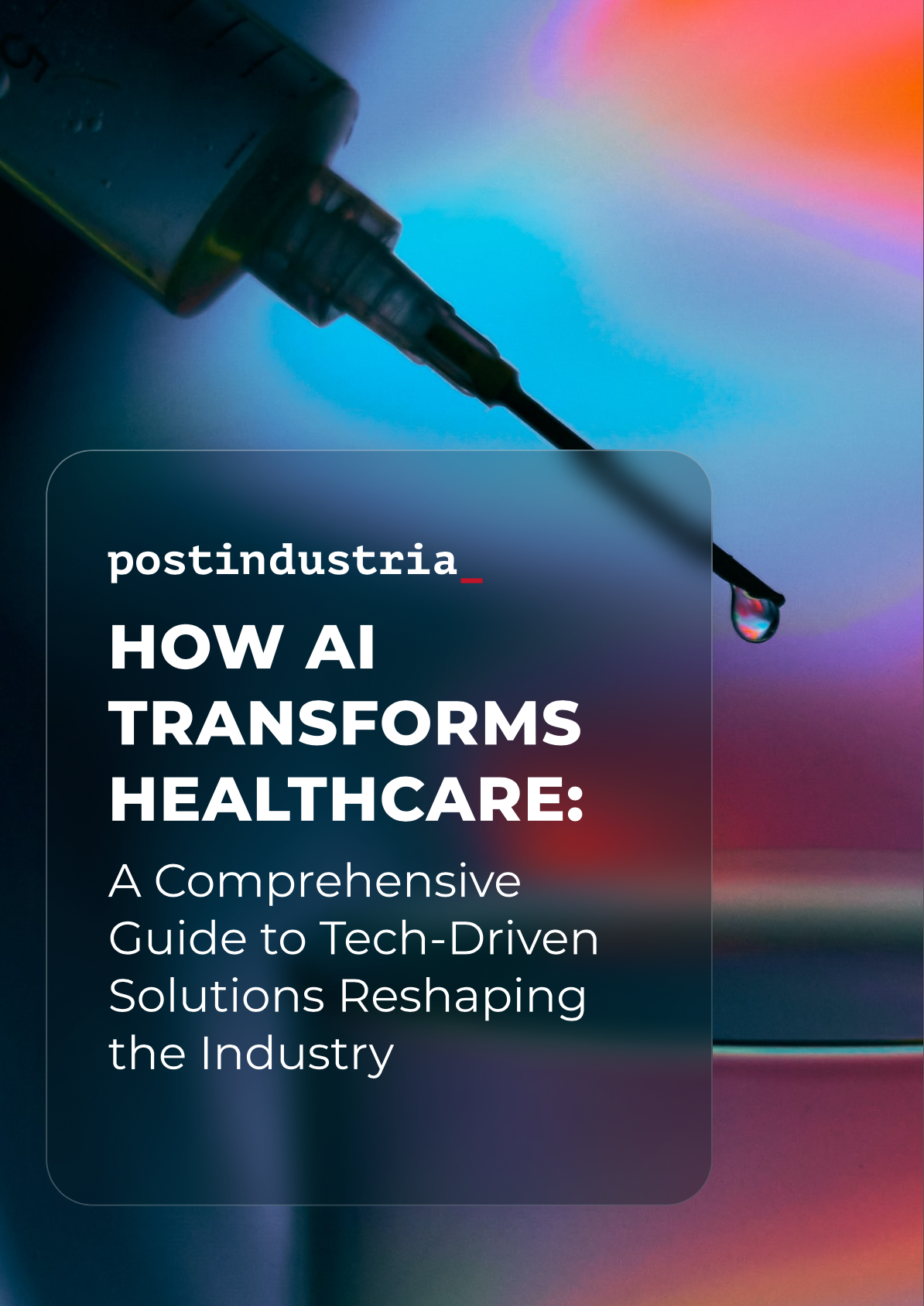 Learn how AI transforms healthcare